VIA Blog
May 02, 2022
The world needs your bright smile. Why? Because it has the power to brighten up someone else's day. Whether or not we smile as an expression of happiness, smiling comes with many benefits. However, studies have shown that as we get older, we begin to smile less and less. Why is that? Is it because we find ourselves unhappier as we get older? At any age, smiling can do multiple things.
1. Relieves stress. Smiling can not only prevent us from looking stressed, overwhelmed, and worned-out, but it can also help decrease stress. Whether you believe this or not, studies have shown that smiling can reduce stress. Even when you don't feel like smiling during those stressful moments, try wearing one.
2. Lowers blood pressure/heart rate. Although more research needs to be done to determine how exactly smiling is able to lower your blood pressure, smiling has been shown to lower your heart rate in the face of stress. Laughter has also been shown to decrease blood pressure during the initial increase in the heart rate and breathing.
3. Elevates your mood. The next time you're feeling down, just put on a smile! In a way, you can think of smiling as a natural antidepressant. It has been revealed that the physical act of smiling can actually allow pathways in your brain to influence your emotional state; by wearing a smile, you might "trick" yourself into feeling happy.
4. Makes someone else smile. Your smile has the power to positively change the moods of others around you. Studies have shown that your brain can automatically notice and imitate the facial expressions of those around you. This means that when you see someone smiling, you yourself may unconsciously put on a smile.
5. Can help you remain positive. Here's a challenge for you. Try smiling. It is easy, right? Now try thinking about something negative while keeping that smile. Is it beginning to falter? Whether it is forced or genuine, a smile holds the power to influence your feelings of positivity. It sends the message to your brain that regardless of what is going on in your life, that life is indeed good!
Ask yourself, "What makes me smile?" Maybe it is that fun family game of Uno, or maybe it is that funny video that your friend may have shared with you. Maybe these things will make the corners of your mouth perk up into a smile right now, because your bright, contagious smile can light up someone else's day.
Text by Soila T. Norris
April 26, 2022
One of the most fun experiences can be hanging out with your friends and watching a thrilling movie. Movie marathons are an incredible way to spend time with those you love. Arranging this exciting night is a simple and easy task. However, it may benefit you to read a few ideas and tricks to add to this event. First, you need to purchase a great deal of snacks and beverages. Some of your friends' favorite candy, soft drinks, and of course, popcorn. Next, it is time to pick some movies. One way to choose the movies you all will be watching is to have everyone write down a couple ideas on pieces of paper. After everyone is finished, you could put the ideas in a bowl and blindly pick a couple. Another way is by crafting a colorful wheel full of film ideas you and your friends come up with. Spin the wheel several times and watch as the wheel chooses the winners.
Finally, let's assemble the movie theater room. This is the area you all will be spending the most time in, so it is important to make sure it looks super cute. One way to create a cozy atmosphere is by throwing together decorative pillows and blankets. You can also create a fluffy bed by utilizing these accents. Many people even use air mattresses or couch cushions. It is super convenient as well. Once you all are finished with the movie, everything is prepared for a sleepover. Hanging a string of fairy lights can add a touch of cuteness as well. At the end of the day, it is your movie marathon night. Furnish the room however you desire, and add your unique touches. Most of all, remember to have an amazing time and create memories that will last a lifetime.
Text by Liz Nalon
April 26, 2022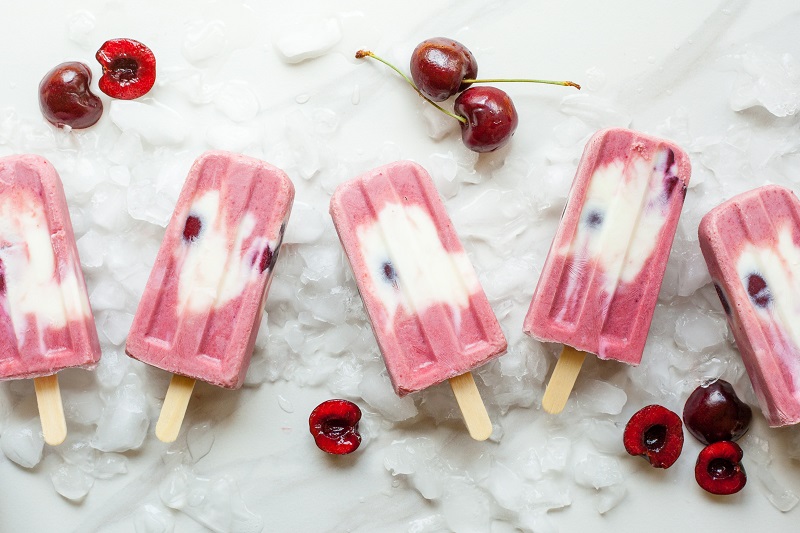 Summer is coming, and the days are getting hotter. On a hot summer day, a nice, cool treat would be perfect. I have found and concluded the best cool treats to make during the summer! All of these recipes will take no more than 30 minutes, and each of them consists of only a couple of ingredients. Enjoy these delicious desserts, and feel free to make them all summer long!
Kool-Aid Slushie
All you are going to need for this slushie is two cups of cold water, one Kool-Aid packet of your choice, half a cup of sugar, and four cups of ice. Begin with crushing the ice to your liking, then add the rest of your ingredients! It is as simple as that and so delicious.
Fruit Popsicles
For this yummy treat, you will only need a couple of ingredients. The ingredients include the fruit of your choice, flavored or sparkling water, and a popsicle mold. Take your popsicle mold and fill it with any fruit, like strawberries, kiwi, or bananas. After you have done that, fill the rest of the popsicle mold with your water! This snack is perfect for hot summer days, and it is a fun activity to do with friends.
Raspberry Sherbet
Everyone loves sherbet, especially if it is raspberry-flavored, so I have found the perfect recipe for you. The ingredients consist of one cup of half and half, one-third of a cup of sugar, and three cups of frozen raspberries; that is it! Combine the half and half and the sugar and stir until the sugar is dissolved. Place the mixture into a clean ice cube tray and put it in the freezer until solid. Let the raspberries sit at room temperature for about 15-20 minutes before making the recipe. Add the cream mixture and the frozen raspberries into a blender and blend until smooth. Eat this tasty sherbet before it melts, and enjoy!
Text by Parker Balkwill
Photo by Lindsay Moe